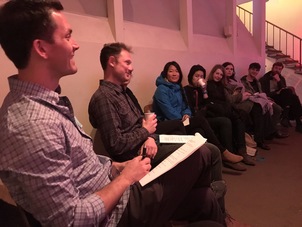 Sound & Space Workshop 
What is a sound sculpture? How does one compose music for space? Audium's workshop will introduce participants to the language of composing for "sound-sculptured space". Journey through various sonic scenes, each environment seamlessly mixing fantasy and reality. One moment, listeners find themselves in a speeding train's engine, the next walking through a forest while being serenaded by a lone trumpeter. Learn how Audium's team thinks beyond just one's eyes and ears- to the entire experience.  Participants will meet the team behind Audium, sample what they are working on, and learn about the art of sound movement. In addition, there will be time for participant Q&A and interaction. Apply the concepts of sound and space to your own projects!
Public workshops are held every other month. Follow Audium's social media for announcements.
To book a private workshop for a group, see our Private Bookings page.