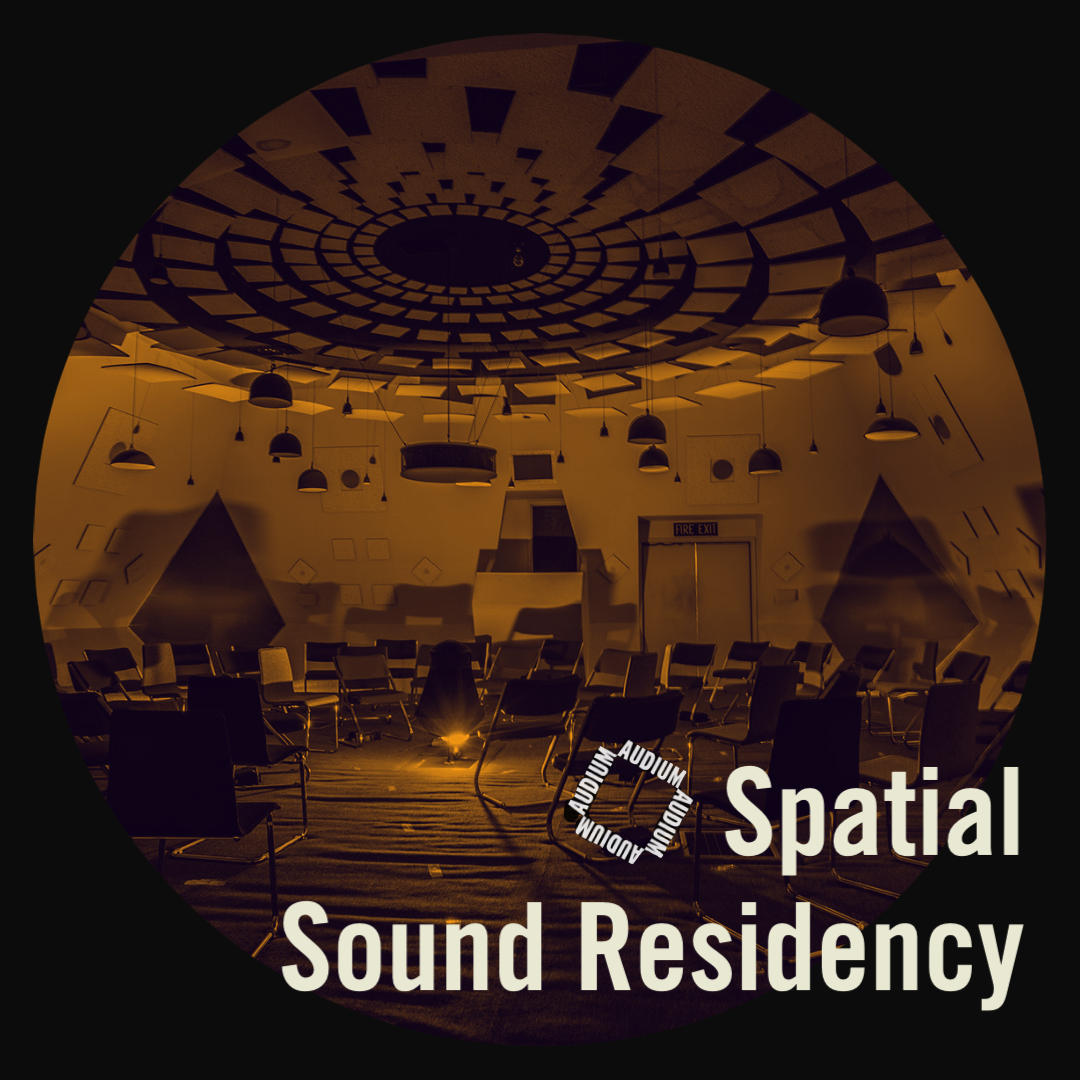 Prospective Applicant Info
We are excited for Audium's first spatial sound residency! The application period is now over, please check back for more updates soon.
Program Overview
The residency is a 6-month commitment, from October 18, 2021-April 2, 2022. The first three months is the creation period: artists will be trained to use Audium's spatial sound system, compose fully immersive sound compositions, and rehearse their works. After, there will be a two-month performance period, during which participants will perform their sound compositions three nights per week. Artists will receive a stipend of $1000 per month during the creation period, and $150 per show during the performance period (totaling 24 planned performances). Time commitment is about 10 hours per week, except during the orientation, when more time will be required. 
The first week of the program will be spent familiarizing the artists with Audium's tools, technology, and concept of performed sound movement. Audium's team, including spatial sound pioneer Stan Shaff, will advise artists on how live spatialization from speaker to speaker can alter and shape their compositions. The subsequent six weeks will be a training program, teaching artists how to use the instrument that is Audium's speaker space. Participants will gain fluency in sound control as they begin to design their own compositions for the space. Artists will schedule 10 hours per week to compose on-site, and will participate in weekly check-in meetings and 2-3 community workshops to engage the public with their work. The next four weeks will be concerned with designing sound and visuals for audience entry and exit. Instruction will be provided on how participants can take the themes of their compositions and expand them to the rest of the building. Projections, sounds, and lighting will all be programmed specifically for a fully immersive experience. 
During the performance period, participants will present their compositions to the public in a concert series. They will perform the sound movement of their works live each night. After each performance, artists will engage with the audience in an artist talkback session. Through these open discussions, participants will discover how other listeners experience the totality of their work. During the performance period, artists will be encouraged to continue rehearsing their spatial performances and tweaking their compositions, as experience informs their perspective.
At the end of Audium's spatial sound residency program, resident artists will have gained fluency in the art of live sound movement. They will have created site-specific immersive sound works, and will have shared these works with the public for two months. 
Full Schedule (tentative) 
June 1 – July 16, 2021  Submission window
Week of Sept 13, 2021 Notification of Artists
Oct 18, 2021 Residency start date
Oct 18 – Oct 22, 2021 Orientation, introduction to technology, sound movement control training, learn compositional                 
Oct 25 – Dec 10, 2021 Content creation: sound compositions, continued practice of sound movement
Dec 13, 2021 – Jan 7, 2022 Break for holiday season
Jan 10 – Feb 4, 2022 Content creation: lobby & labyrinth sound and visuals, performance rehearsals
Feb 10 – Apr 2, 2022 Performance period: 3 performance nights per week (Thursday, Friday & Saturday evenings), facilities open for continued editing and rehearsals
Feb 10, 2022 Opening night event
Apr 2, 2022 Closing night 
Eligibility
You must be Bay Area-based to apply. 

All ages and levels of experience are encouraged to apply.

Open to all artists working in sound and music with preferred DAW experience. 

Must be available for FULL participation in orientation week and performance nights (see schedule) and be able to commit to composing in the space 10 hours per week during the content creation period.

You must have samples of your sounds/music ready to share.

Must have open mind and open ears! 
Selection Criteria
Ar

tists will be chosen to reflect the diverse perspectives of our community 

Adaptability to Audium's multi-channel environment and ability to evoke new perceptions through mindful listening experiences.

Attention to all elements of the space (lighting, projection and sound in lobby area) to create a fully immersive experience.

Maturity of concept and technical proficiency

Ability to effectively communicate with staff, fellow artists & audience members.
Familiarity with Audium's work and alignment with Audium's philosophy on the performance of sound movement
Creativity, curiosity, and openness to learning new techniques in sound manipulation
Sample sound selections have variety, storytelling, nuance, intentionality, contrast
The application period is now over.
Please check back for updates soon.
Residency spots are limited, but we are also actively seeking future collaborators. All applying artists will be considered for future programming.