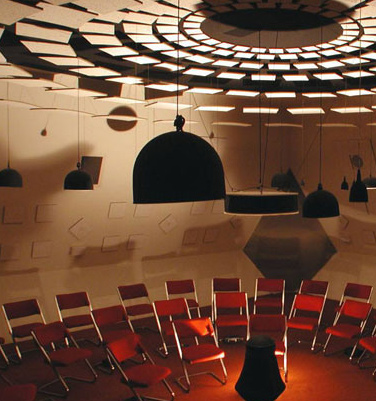 Audium is the first theater of its kind in the world, pioneering the exploration of space in music. 
Listeners are bathed in "sound sculptures" performed through 176 speakers in total darkness.
Mission
Audium is a place for the intersection of sound, space and deep immersive experience. Building on its history as a theater of sound, Audium is growing into a center for spatial sound art, featuring new programming and collaborations with artists from diverse communities. In the face of a world where attention is being tugged apart, Audium's mission is to amplify perceptual awareness in worlds of sound and space. Our goal is to enrich, educate and bring our community together through immersive art forms and the use of space as an artistic tool. Audium is a canvas on which artists can stretch the boundaries of technology and creativity.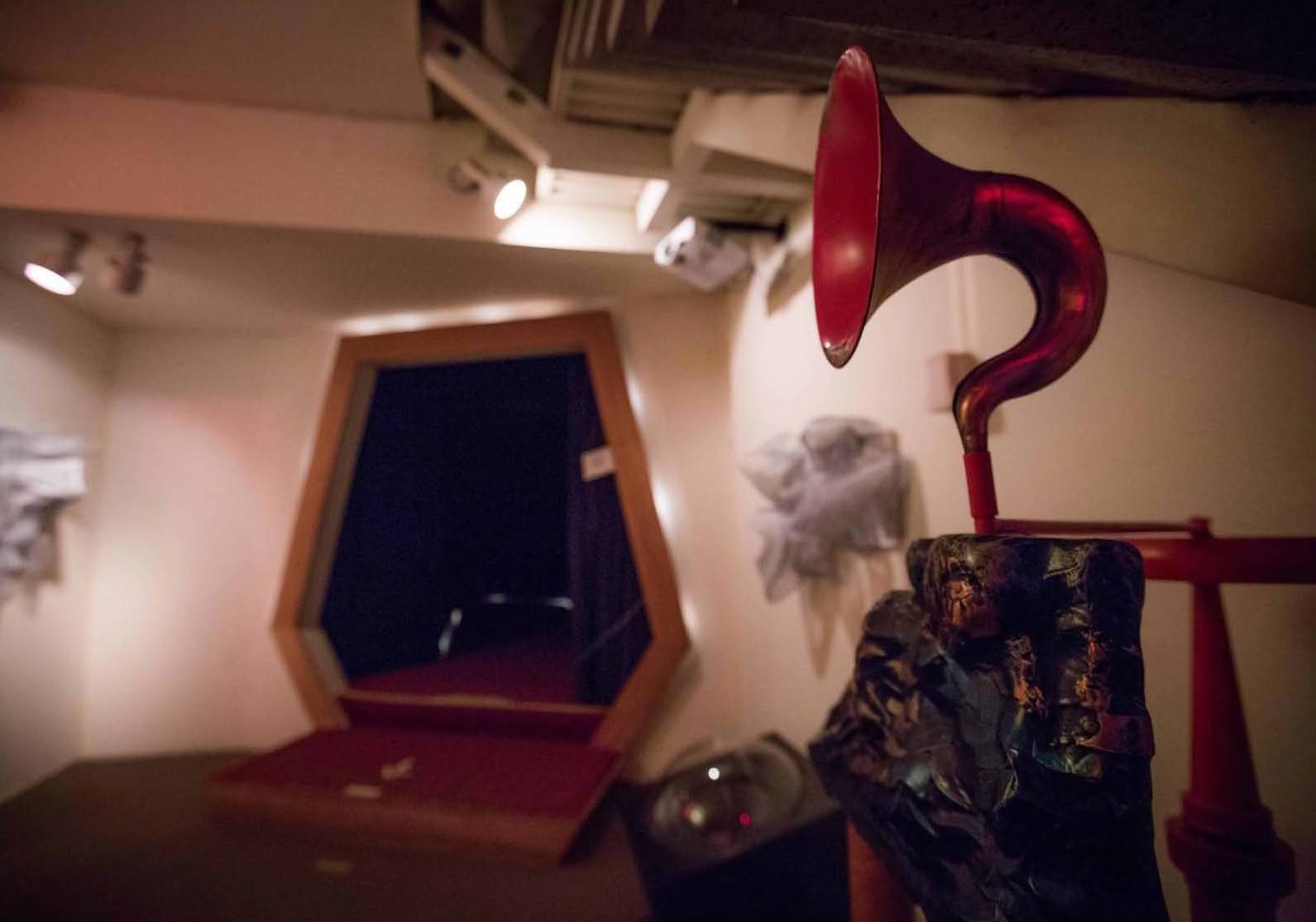 Vision
After over 50 years of experimentation in sound movement and sonic immersion, Audium has been recognized the world over as a pioneer of spatial sound art.  When founders Stan Shaff & Doug McEachern began experimentation in the late 1950s, space was a largely unexplored dimension in composition.  Composers intrigued by space and sound found vast inadequacies in the available technology. With help from a series of grants by the National Endowment for the Arts, Shaff and McEachern were able to construct a permanent home for their work; an instrument for their vision of a composable sound-space environment. Since 1967, Audium has offered weekly public performances and workshops, introducing countless visitors to new sonic lands.
Realization
Audium occupies a custom-built facility designed specifically for the creation and performance of spatial sound-art.
For an audience member, Audium's experience starts the moment one walks through the entrance.  The themes of the night are already seeping into one's consciousness via sound, projection and art in the lobby. The crowd is ushered down a twisting, darkened hallway, with hidden speakers zipping sounds around. Listeners then sit in the auditorium, in total darkness, and are enveloped by 176 speakers in sloping walls, a floating floor, and a suspended ceiling. 
Sounds are "sculpted" through their movement, direction, speed and intensity on multiple planes in space. Live performance of composed works gives a human, interactive element to Audium's spatial electronic orchestra.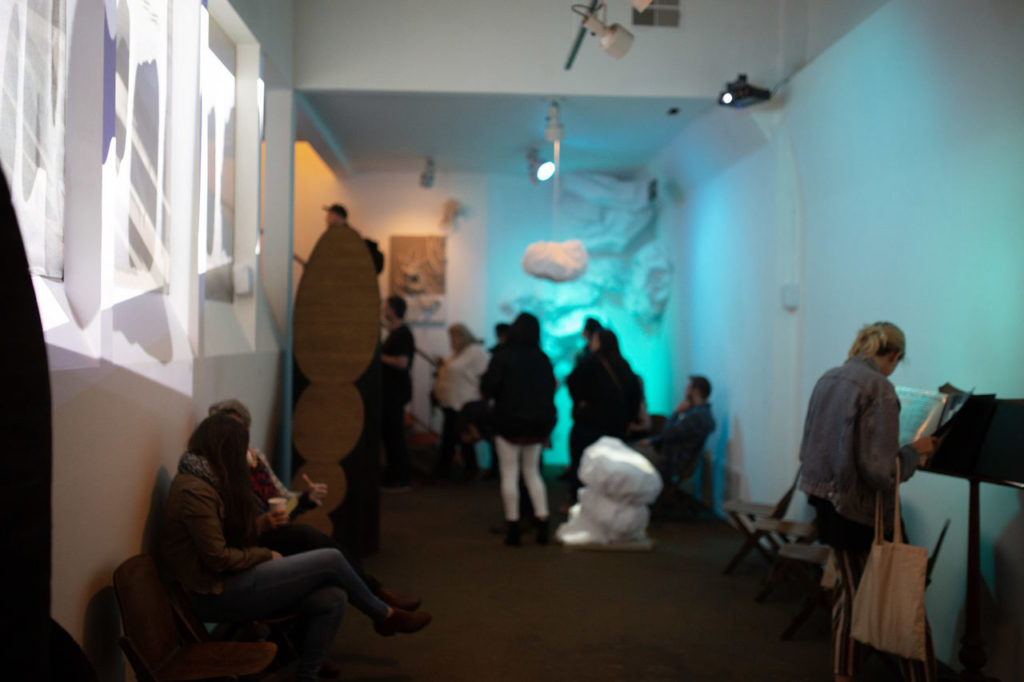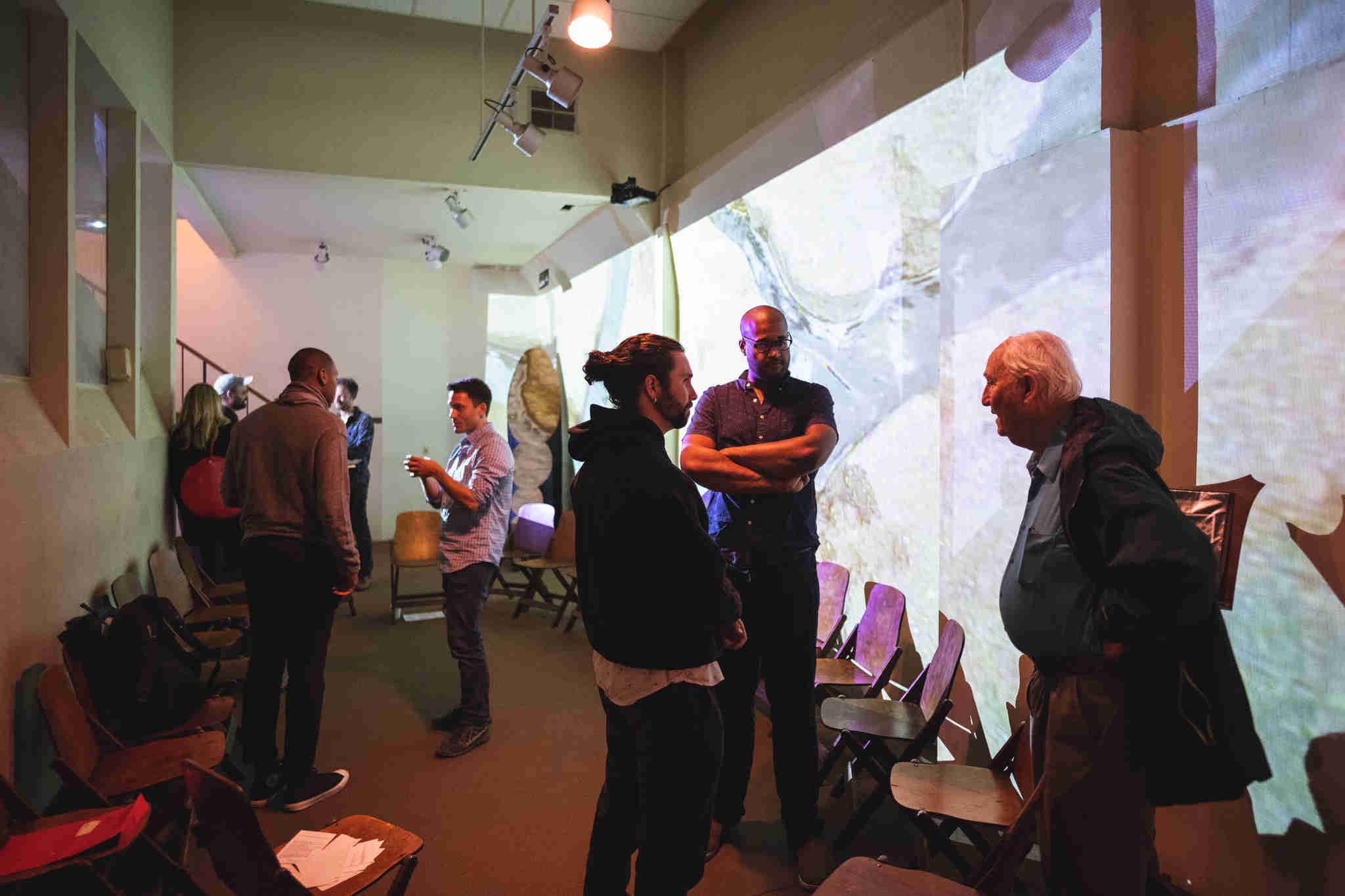 Future
Audium is now transforming into a hub where Bay Area artists can create and share immersive sound-art with audiences from around the world. We envision a space for artists from all backgrounds to learn and experiment with sound movement and share their creations with the community. Amid the current untenable economic climate in the Bay Area, we seek to create new opportunities for local artists and musicians. Mindful listening experiences at Audium amplify the voices of artists with socially-imperative messages. 
Aesthetic 
"Sounds touch deeper levels of our inner life, layers that lie just beneath the visual world. All sounds are communicative – sound is birth, life and death; sound as time and space; sound as object, environment or event. Audiences should feel sound as it bumps up against them, caresses, travels through, covers and enfolds them. I ask listeners to see with their ears and feel with their bodies sounds as images, dreams and memories. As people walk into a work, they become part of its realization. From entrance to exit, AUDIUM is a sound-space continuum."
– Stan Shaff (Co-Founder of Audium)